Product Description

Harness the power of extreme resolution, jaw-dropping image quality and huge dynamic range in both stills and Full HD 1080p video applications. A newly designed 36.3 megapixel FX-format full-frame image sensor with no optical low-pass filter is paired with the thrilling performance of EXPEED 4 for staggering detail retention, noise-free images from ISO 64 to ISO 12,800, fast frame rates, cinematic video capabilities, in-camera editing features and outstanding energy efficiency. For still and multimedia photographers, The D810 will ignite your creativity and help you capture images that astound. For cinematographers and camera operators, the D810 will become one of the most versatile tools in your arsenal. The D810 will expand your vision and make you rethink what's possible.
One look changes everything

One look changes everything
The bar has been raised
The D810 truly raises the bar for image quality and dynamic range. An all-new FX-format full-frame image sensor design—36.3-megapixels with no optical low-pass filter—is paired with Nikon's innovative EXPEED 4 image processing for flawless detail retention from snow white to pitch black, beautiful noise-free images from ISO 64 to ISO 12,800, an extremely wide dynamic range, flattering well-saturated skin tones and much more. The combination reveals the true optical precision of NIKKOR lenses, which provide flawless rendering even at these pixel counts. For those seeking the ultimate in D-SLR image quality, the D810 delivers.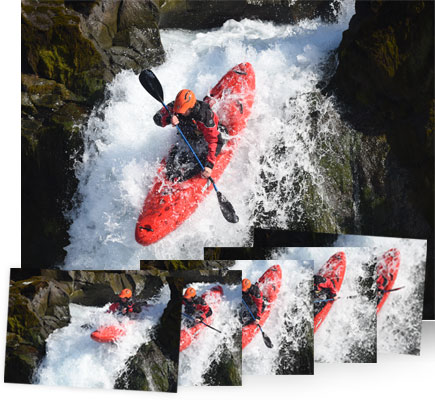 Command performance
Where speed and accuracy converge
The D810 performs with astounding speed and precision. Capture 5 fps at full resolution and in 5:4 crop mode, 6 fps in 1:2 crop mode and 7 fps in DX-crop mode*. Enjoy tack-sharp focus—crucial in high-resolution images—thanks to an Advanced Multi-CAM 3500FX AF sensor that uses 51 focus points, including 15 cross-type sensors, 11 of which work all the way to f/8, plus a new Group Area AF. Internal vibration has been nearly eliminated with a newly designed sequencer mechanism and Electronic Front Curtain Shutter system. You can even quickly spot-check your focus by zooming in 46x on the large 3.2-inch 1,229k-dot display with RGBW alignment and monitor highlights during video capture with zebra striping right in the display. The D810 is as nimble as it is precise.

*When using optional MB-D12 battery pack and EN-EL18a battery (for up to 100 jpeg shots)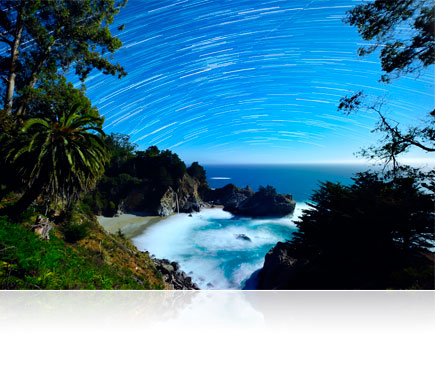 Liberating versatility
Thrilling new capabilities and inspiration
The D810 is a versatile camera for versatile shooters. Produce stunning star-trail images with unlimited continuous shooting—capture images for as long as your battery or memory card will allow. Create smooth, even time-lapse sequences thanks to new Exposure Smoothing. Preserve details in both the shadowy and bright areas of stage performances and other spot-lit situations with Highlight-weighted Metering. Use the D810's pop-up flash as a Commander for Nikon's Creative Light System—a major convenience for location photographers. Save your files in a new 12-bit uncompressed RAW size S* format that's half the size of RAW size L. Wherever your passion and inspiration takes you, the D810 will follow.

*In-camera RAW processing or some retouch options, such as image overlay, cannot be applied.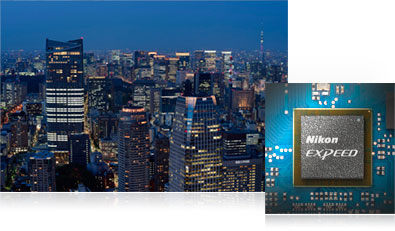 The most advanced EXPEED yet
Nikon's EXPEED image processing concept enables superior performance in Nikon cameras. The new EXPEED 4 design takes that performance even further— 30% faster than its predecessor, 25% faster frame rates (5 fps), a wider ISO range of 64-12,800 with low noise throughout, smooth gradations, a wide dynamic range, optimizations for 1080 60p video, greater energy efficiency and more.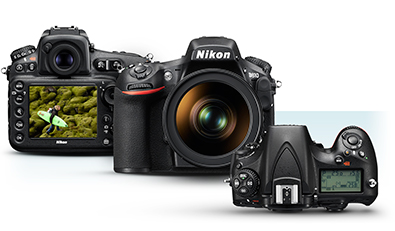 Outstanding handling
A deeper grip ensures stable handling, even for small hands. A brighter viewfinder offers ~100% frame coverage, 0.7x magnification and high contrast organic EL information display for easier visibility. The scratch- and shock-resistant TFT LCD display has wide viewing angles and enhanced visibility in sunlight. Its color can be calibrated to match an external monitor, and a new split-screen feature lets you monitor two different points of a scene side-by-side to ensure proper leveling or focus.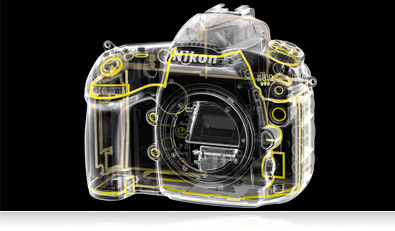 Built for tough projects
The D810 with magnesium alloy, stringently tested weather and dust sealing, a shutter that's been tested to 200,000 cycles, longer battery life, and advanced in-camera editing like NEF (RAW) processing, distortion control, image overlay and more, makes the D810 as reliable on the road as it is in the studio.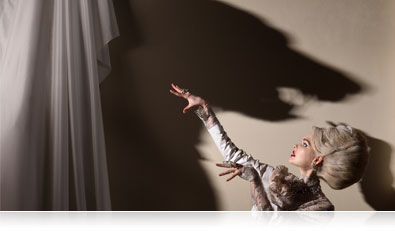 Creative freedom
Every superb NIKKOR lens tells a new story, from fast primes to versatile telephoto zooms. With optional Nikon Speedlights, lighting is as powerful and comprehensive as you want it to be, while pro-grade Wi-Fi® transmitters and remote controls streamline workflow in the studio or at a remote location. Draw the most from RAW files with the new Capture NX-D software, or tailor your images and customize your picture control settings with the optional Picture Control Utility 2. Unleash the full potential of the D810.
Specifications
| | |
| --- | --- |
| Name | Nikon - D810 Digital SLR Camera Body |
| Manufacturer | Nikon |
| UPC | 018208015429 |
| Model | NI-1542 |
| In The Box | D810 Digital SLR Body EN-EL15 Rechargeable Li-ion Battery MH-25a Charger UC-E22 USB Cable USB Cable Clip HDMI Cable Clip AN-DC12 Strap BM-12 LCD Monitor Cover BF-1B Body Cap BS-1 Accessory Shoe Cover DK-17 Viewfinder Eyepiece NikonView NX2 CD ROM Nikon 1 Year Warranty |
| Accessory Shoe | Yes |
| Approx. Weight | 31.1 oz. (880 g) camera body only |
| Single-point AF Mode | Yes |
| Autofocus Fine Tune | Yes |
| Autofocus Sensitivity | -2 to +19 EV (ISO 100, 20°C/68°F) |
| Autofocus System | Nikon Advanced Multi-CAM 3500FX autofocus sensor module with TTL phase detection |
| Built-in Flash | Yes |
| Flash Control | TTL: i-TTL flash control using 91,000-pixel RGB sensor are available with built-in flash and SB-910, SB-900, SB-800, SB-700, SB-600, SB-400, or SB-300; i-TTL balanced fill-flash for digital SLR is used with matrix and center-weighting metering, standard i |
| Flash Compensation | -3 to +1 EV in increments of 1/3, 1/2 or 1 EV |
| Flash-ready Indicator | Lights when built-in flash or optional flash unit is fully charged; flashes after flash is fired at full output |
| Flash Sync Modes | Auto FP High-Speed Sync supported Front-curtain sync (normal) Rear-curtain sync Red-Eye reduction Red-Eye reduction with slow sync Slow rear-curtain sync Slow sync Off |
| Flash Sync Terminal | Yes |
| Compatible Lenses | AF NIKKOR lenses, including type G, E, and D lenses (some restrictions apply to PC lenses) and DX lenses (using DX 24 x 16 1.5x image area), AI-P NIKKOR lenses, and non-CPU AI lenses (exposure modes G and H only). Electronic rangefinder can be used with l |
| Continuous Shooting Options | FX-format CH: Up to 5 frames per second CL: Up to 1-5 frames per second 5:4 format CH: Up to 5 frames per second CL: Up to 1-5 frames per second DX-format CH: Up to 6 frames per second 7 fps in DX-crop mode when using optional MB-D12 battery pack and EN- |
| Dynamic AF Mode | Number of AF points: 9, 21, 51 and 51 (3D-tracking) |
| AF-area Mode | 9, 21 or 51 point Dynamic-area AF Auto-area AF Single-point AF 3D-tracking (51 points) Group-area AF |
| Auto-area AF Mode | Yes |
| Maximum Autofocus Areas/Points | 51 |
| Effective Pixels | 36.3 million |
| Expanded ISO Sensitivity Options | Lo-1 (ISO 32 equivalent) Hi-1 (ISO 25,600 equivalent) Hi-2, (ISO 51,200 equivalent) |
| Exposure Bracketing | 2 to 9 frames in steps of 1/3, 1/2, 2/3 or 1 EV |
| Exposure Compensation | ±5 EV in increments of 1/3, 1/2 or 1 EV |
| Exposure Lock | Yes |
| Exposure Meter Coupling | CPU AI |
| Exposure Metering System | TTL exposure metering using 91,000-pixel RGB sensor |
| Exposure Modes | Aperture-Priority (A) Manual (M) Programmed auto with flexible program (P) Shutter-Priority (S) |
| File Format Still Images | JPEG: JPEG-Baseline Compliant; can be selected from Size Priority and Optimal Quality JPEG: JPEG-Baseline Compliant with fine (approx 1:4), Normal (approx 1:8) or Basic (approx 1:16) Compression NEF (RAW): 12 or 14 bit, lossless compressed, compressed, o |
| Focus Lock | Focus can be locked by pressing AE-L/AF-L button Focus can be locked by pressing shutter-release button halfway (single-servo AF) |
| Focus Modes | Auto AF-S/AF-C selection (AF-A) Continuous-servo (AF-C) Face-Priority AF available in Live View only and D-Movie only Full-time Servo (AF-A) available in Live View only Manual (M) with electronic rangefinder Normal area Single-servo AF (AF-S) Wide area |
| Image Sensor Format | FX |
| Image Sensor Type | CMOS |
| ISO Sensitivity | ISO 64 - 12,800 Lo-1 (ISO 32) Hi-1 (ISO 25,600) Hi-2 (ISO 51,200) |
| Metering Range | 0 to 20 EV (3D Color Matrix, center-weighted metering or highlight weighted metering) 0 to 20 EV (spot metering) |
| Metering Method | Center-weighted: Weight of 75% given to 12 mm circle in center of frame Matrix: 3D Color Matrix Metering III (type G, E, and D lenses); Color Matrix Metering III (other CPU lenses); Color Matrix Metering available with non-CPU lenses if user provides lens |
| Operating Environment | 0–40 °C (+32–104 °F) |
| Image Area (pixels) | FX-format (L) 7,360 x 4,912 (M) 5,520 x 3,680 (S) 3,680 x 2,456 1:2 format (30 x 20) (L) 6,144 x 4,080 (M) 4,608 x 3,056 (S) 3,072 x 2,040 5:4 format (30 x 24) (L) 6,144 x 4,912 (M) 4,608 x 3,680 (S) 3,072 x 2,456 DX-format (L) 4,800 x 3,200 (M) 3, |
| Sensor Size | 35.9 mm x 24 mm |
| Shutter Release Modes | Continuous low-speed [CL] mode Continuous high-speed [CH] mode Mirror-up [Mup] mode Quiet Shutter Release Quiet Continuous Release Self-timer Mode Single-frame [S] mode |
| Shutter Speed | 1/8000 to 30 sec. Bulb |
| Shutter Type | Electronically controlled vertical-travel focal-plane |
| Total Pixels | 37.09 million |
| Wi-Fi Functionality | Eye-Fi Compatible WT-5A |
| White Balance Bracketing | 2 to 9 exposures in increments of 1, 2 or 3 EV |
| Monitor Size | 3.2 in. diagonal |
| Monitor Adjustments | Brightness, 5 levels Brightness control using ambient brightness sensor |
| Monitor Angle of View | 170-degree wide-viewing angle |
| Monitor Type | Wide Viewing Angle TFT-LCD |
| Movie Maximum Recording Time | 20 minutes at highest quality 29 minutes 59 seconds at normal quality |
| Movie Metering | TTL exposure metering using main image sensor |
| Movie Audio | Built-in microphone, stereo External stereo microphone (optional) |
| Movie Audio Recording Format | Linear PCM |
| Movie Video Compression | H.264/MPEG-4 Advanced Video Coding |
| Movie File Format | MOV |
| Viewfinder Frame Coverage | FX (36x24): 100% Horizontal and 100% Vertical (Approx.) 1.2x (30x20): 97% Horizontal and 97% Vertical (Approx.) DX (24x16): 97% Horizontal and 97% Vertical (Approx.) 5:4 (30x24): 97% horizontal and 100% vertical (Approx.) |
| Viewfinder Diopter Adjustment | Built-in diopter adjustment (-3 to +1 m¯¹) |
| Viewfinder Eyepoint | 17 mm (-1.0 m¯¹) |
| Viewfinder Magnification | 0.70x (Approx.) |
| Virtual Horizon Camera Indicator | Yes Also visible in LiveView Modes Also visible in Viewfinder |
Reviews
In the Box
D810 Digital SLR Body
EN-EL15 Rechargeable Li-ion Battery
MH-25a Charger
UC-E22 USB Cable
USB Cable Clip
HDMI Cable Clip
AN-DC12 Strap
BM-12 LCD Monitor Cover
BF-1B Body Cap
BS-1 Accessory Shoe Cover
DK-17 Viewfinder Eyepiece
NikonView NX2 CD ROM
Nikon 1 Year Warranty